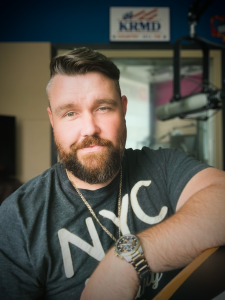 Mason has been waking people up with Country Music for over a decade! He lives and loves country music! From Hank Williams to Luke Combs, Mason loves it all.​
Originally from Denver, Colorado, Mason is a Denver Broncos fanatic! Mason is also a bit of a foodie. He's been on a mission to find all the best restaurants in Colorado, so if you have a recommendation send it his way! Mason loves his technology and is always the first in line for hottest new gadget. Mason tries to get to the movies as much as possible and can quote most of them! If you ever want to know what happened on TV last night… just ask… Mason has watched it all. And, If you want some BBQ tips, Mason would love to show you how it's done!​
Mason is married to the love of his life, Allison, and has a 16-year-old daughter who he plays chess and shoots archery with. He tries to hit every concert that comes to town! Wake up with The Cat Country 95.1 Morning Show with Mason, every weekday morning on KATC!